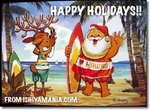 Aloha!
Hi, to you all! Hope you having a great holiday.
I want to applause Team ISHIYAMANIA and our biz partners for their great guts and fights all through Year 2006.
We, Team ISHIYAMANIA thank everyone who viewed this website and dealt customers.
With all your help and support, we had an extreamly exciting, awesome, sexy, stunning and nothing but a fabulous days-and-nights.
I wanna give a fabulous thank you from the bottom of my heart. Without you, I couldn't represent our honorble concept "no sexy, no life" to North-East Asia.
Anyway, I hope you spend a wonderful holiday with loving mates and families. Even if your best friend were
Tom the My Space
. :)
Have fun!
Mahalo.
p.s. By the way, I am always welcome to accept Platinum Amex. card, signed blank check and the flowers. (I am counting on you, every-single-minutes!) *If you don't get the meanings of it, please check my
Bio
.
( to be continued )